Cemeteries such as Widney Manor Cemetery in Solihull can be peaceful places to visit. Many visit cemeteries to gather their thoughts and deal with loss. As architectural spaces, these locations are very interesting thanks to the variety and beauty of the different plots and headstones, which show a tradition and physical history of the wider community.
When choosing a headstone, it is a good idea to visit the cemetery it is to go in, to see what styles and stone types are common there. However, we can understand why some may not wish to visit cemeteries just to look around, particularly in 2021. In this article we've collected the most interesting graves in Widney Manor Cemetery to help our customers get some headstone inspiration.
Where is Widney Manor Cemetery?
Set between beautiful farmland and popular riding schools, Widney Manor Cemetery lies within the Solihull district, in Bentley Heath.
Not only is the site just ten miles from Birmingham City Centre, but it's also close to Solihull and equidistant from Coventry, Redditch and Royal Leamington Spa,
What are the surroundings like?
Cemeteries are quiet places for reflection and can be very calming. Widney Manor Cemetery is surrounded by picturesque countryside, at the centre of historic woodlands and meadows. The River Blythe runs through the local area and Knowle Park is nearby for longer walks.
It is hard to believe that this site is so close to two major cities, as it's a haven from the chaos of urban life. The broad range of headstones and the well-planned geography of the site make this cemetery stand out.
Headstone Inspiration in Widney Manor Cemetery
Jesus in a Black Frame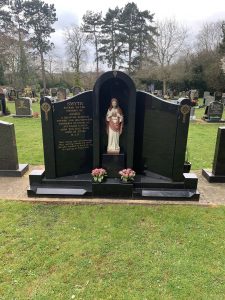 This is a quite breath-taking monument to the lives of the family members to be buried there. With one half as a memorial to the recently deceased and the other leaving space to commemorate their partner in future, a great deal of thought has gone into this piece.
The religious setting has a statue of Jesus looking over the grave with hands together in prayer.
The simple black background means the colourful details give a really striking effect,. This stone would compliment all styles of flowers and memorials which can be laid throughout the year.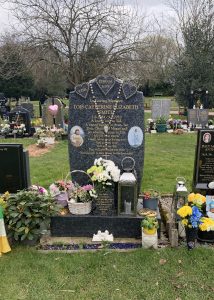 A Contemporary Headstone with Pictures, Beads & Hearts
While many people opt for, traditional headstone shapes, these can easily be customised. In this case,  the maker has used colourful pictures of Saints, flags and topped the stone with love hearts for additional messages. This style is traditional in Catholic headstones, dressed in rosary beads.
A Beautiful White Plinth with Religious Figures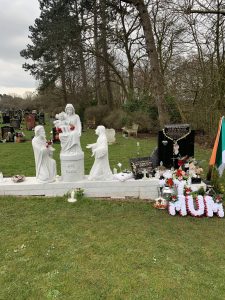 Against a backdrop of simpler grey or black headstones, this scene depicting Mary and Jesus along with the words 'Ave Maria' stands out from a distance and makes a real statement. That statement may be of the religious devotion of the family and certainly a tribute of this scale is designed for many people to regularly visit.
Memorials in this style are popular within the Catholic tradition, particularly for those wishing to highlight their loved one's faith. The effort that goes into choosing or designing something this elaborate is testament to the importance of this person to their family.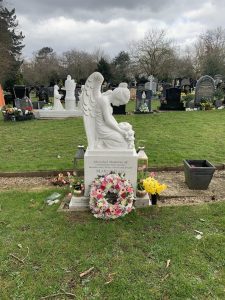 This Angel's Head is Bowed in Respect
For many people, a burial is about joy and a celebration of life, as with some of the other examples this can include bright colours and decorative elements. But for many people, a burial should be focussed on respect and serenity. This memorial combines a heavenly religious image with a very human posture of mourning or contemplation. The implication of the pose is one of rest, offering comfort to visitors.
Resting Peacefully, An Angel Protects the Grave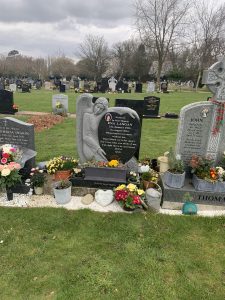 The final stone at Widney Manor we will look at is this stone angel, clutching a contemporary headstone. This example combines new and old, religious and secular, standing out while maintaining an element of understated subtlety.
It is reassuring to know that the resting places of loved ones are as unique as those people were. This is also a really good example of a memorial that suits all tastes. Relatives may have slightly different views on what the most appropriate design would be. This kind of approach can cater to a range of opinions, leaving everyone happy with the end result.
Visiting Widney Manor Cemetery
Currently, there are of course some restrictions for visiting Widney Manor, but it's still possible to visit if you need to, just check out this guide before you visit.
When you do visit be sure to take in the beautiful setting and ornate memorials around the site in this special place.
At the time of publication, the cemetery is open to the public, although it's worth checking before you visit on: 01217441121